Wedge Wire Panels for Industrial Screening
Aughey screens provide a wide range of flat and cylindrical wedge wire screens for use in a large array of industrial screening applications, many of which include:
Food and Beverage
Sugar and Sugar Beet pulp
Paper and Pulp screening
Brewing and Malt screening
Water and Fluid Treatment
Mineral and Aggregate processing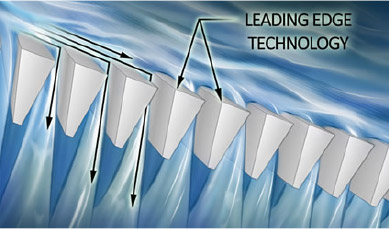 Wedge wire screen, also known as Profile wire, V-wire and Tri-wire, is custom made for your specific application. The features of this type of screen makes it an attractive solution for separating solids from liquids, retaining media, filtering, sizing, dewatering, collecting and distributing.
Due to the wedge shape of the profile bar, wedge wire is an effective method of filtering because of the non-clogging capabilities. Wedge wire is produced in a selection of sizes with a various range of wedge profile widths, wedge profile depth and support bar sizes to suit virtually and application. Please refer to the Technical Information page for an indication of our available combinations.

Radial Internal Opening
Radial External Opening
Axial Internal Opening
Axial xernal Opening