Aughey Screens Open Day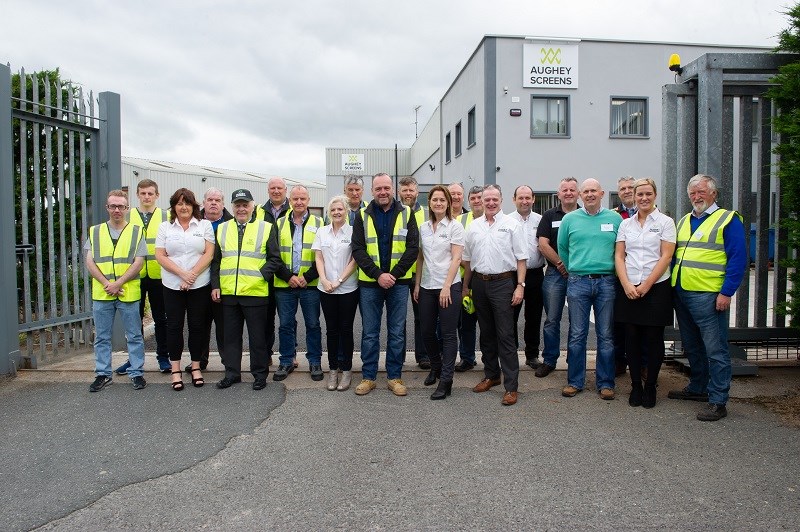 Click to enlarge
Thursday 2nd of August 2018
Aughey Screens Ltd has had its second open day in 12 months, the first being September 2017. The first Open Day was as a result of combatting Brexit and building on our customer relationships particularly in Northern Ireland and the UK which has proved to be very successful and as such we decided that we should have another Open Day aimed at our Southern customers which I am pleased to say has generated a lot of interest with our clients in the IMQS (Irish Mining & Quarrying Society).
Aughey Screens Ltd manufacture and supply screening media which is used to grade, sieve or filter various different materials into different sizes or categories. Products such as sand, coal, sugar, flour, aggregate (crushed rock), soil, animal feeds and even water treatment are examples of some of the applications where our woven wire mesh and woven wire cloth are used. Our products are sold throughout the world as far away as Australia and in markets such as Germany, USA and Africa to name but a few.
On this occasion it is our clients in the extractive industry, as represented by the IMQS, that participated in the Open Day at our facility in Killyconnigan, Monaghan on Monday the 18th June 2018. We would like to take this opportunity to extend our thanks and gratitude to the IMQS for their participation and help in organising this event. Also the management of Aughey Screens Ltd would like to take this opportunity to thank all their employees for their enthusiasm and hard work in ensuring that the Open Day was a success and we thank them for their continued support.